Fish
For more information, see the Fishing page.
Fish are catchable when fishing using a Fishing spear near any body of water with shadows of swimming fish visible. They can be found in the ocean, lake or river and each biome has three common fish and one rare fish. They can be eaten raw, used in cooking and in the Skye's Collection or sell. The value of fish depends on their biome of origin.
Fishing does not require energy. Cooked fish provide more energy.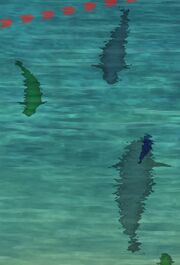 Rare fishes are not included in the fish achievements and Skye's collection.
Image
Name
Biome
Silhouette type
Price
Season - Time - Weather

Leviathan
Plains
Giant blue-grey
$120
Rare, caught during eclipse

Namazu
Ocean
Giant blue-grey
Rare, more frequent during eclipse

Paguroidea
Marsh
Giant blue-grey
Rare, caught during rain

Abaia
Mountain
Giant blue-grey
Rare, caught after 8 PM